Many of us learn to cook with recipes passed down from our parents and grandparents, and without a doubt, they're among the most delicious ones! However, after some time, we all want to experiment a little in the kitchen and discover new interesting tastes and flavors. 
We're here to teach you how to elevate your culinary creations and prepare dishes that'll satisfy your taste buds and wow all your guests. Let's look at the top 5 vanilla bean recipes, tips, and helpful information and give your kitchen a new unique aroma! 
The 5 Best Vanilla Bean Recipes 
Vanilla beans provide various nutritious benefits, so it's no wonder that many want to incorporate them into their dishes. Here are 5 recipes you can try to make in your kitchen: 
1. Maple Vanilla Custard 
This Maple Vanilla Custard will satisfy your sweet tooth like nothing before. The combination of maple syrup and organic vanilla beans will create an unexpected sweet sensation in your mouth. 
However, to get the best out of the recipe, always seek the best maple syrup and vanilla bean suppliers! 
Ingredients 
2 cups heavy cream 

1 vanilla bean 

⅓ cup pure maple syrup 

5 egg yolks 

¼ cup granulated sugar 
Preparing Instructions 
Preheat your oven to 325°F. 

Combine the heavy cream and split vanilla bean in a saucepan and heat over medium until it simmers. 

Remove from the heat and let it steep for around 15 minutes. 

Take a bowl and whisk together the egg yolks and granulated sugar. 

Add the maple syrup to the bowl and mix until well blended. 

Take another clean bowl and strain the custard through a fine mesh sieve.

Put the ramekins together with the custard in a baking pan and fill it with hot water to cover the ramekins.

Bake for around 30 minutes. Note that the custard should be slightly jiggly in the center.

Remove from the water bath and let it cool.

Put it in the fridge and wait for about 2 hours.
2. Apple and Blueberry Cake with Vanilla Beans
Let's add some flavor and nutrition to your traditional apple and blueberry dessert with vanilla beans. You'll be surprised by how delicious it'll be!
Ingredients 
2 cups all-purpose flour 

2 tsp baking powder

1 cup granulated sugar

½ tsp salt

2 large eggs

½ cup unsalted butter 

1 vanilla bean or 3 tsp of

homemade vanilla extract

 

½ cup milk 

2 cups peeled and diced apples

1 cup blueberries 

Vanilla sugar for dusting
Preparing Instructions 
Preheat your oven to 350°F. 

Grease and flour in a large round baking pan. 

Whisk the flour, baking powder, and salt in a bowl.

Add the cream and granulated sugar until fluffy.

Add eggs, one at a time, then mix in the vanilla bean or homemade vanilla extract.

Add the milk and mix until everything is well combined.

Put in the apples and blueberries.

Pour batter into the prepared pan and smooth the top.

Bake for around 45 minutes.

Let it cool in the pan for around 15 minutes, then transfer it to your desired dish.

Dust with vanilla sugar.
3. Creamy Vanilla Bean Yogurt
The Vanilla Bean Yogurt will undoubtedly become one of the first things you crave when you wake up! The mix of honey, vanilla bean, and berries will not only make one of the best morning meals but will also provide you with the nutrients needed to begin your day.
Ingredients 
Preparing Instructions 
Split the vanilla bean, scrape out the seeds, and mix the seeds into the Greek yogurt.

Add the honey and stir until well combined.

Get your favorite glass and layer the vanilla yogurt, mixed berries, and granola.

Repeat the layers until the glasses are filled to your liking.

Top with a sprinkle of granola and honey. You can also add whipped cream. 

Refrigerate for around 30 minutes and enjoy the vanilla flavor.
4. Vanilla-Glazed Roast Chicken
Who said vanilla only goes well with sweet things? This recipe will prove that it can combine well with chicken and will undoubtedly impress your guests with its distinct flavor.
Ingredients 
1 whole chicken (3-4 pounds)

1 vanilla bean or 1 tbsp vanilla bean paste 

3 tbsp olive oil

2 cloves minced garlic 

1 tsp dried thyme

Salt and pepper to taste
Preparing Instructions 
Preheat your oven to 375°F.

Split the vanilla bean and scrape the seeds (or take the vanilla paste), then mix it with olive oil, minced garlic, thyme, salt, and pepper.

Rinse and pat dry the chicken and rub the vanilla mixture all over it.

Place the chicken in a roasting pan and roast the chicken for about 1 hour and 15 minutes.

Let the chicken rest for about 15 minutes, and enjoy. 
5. Vanilla Bean Frappuccino
Lastly, we have the Vanilla Bean Frappuccino, a coffee that will become your new favorite drink. The chilled brewed coffee, combined with vanilla and whipped cream, will be the perfect ending to your lunch or dinner.
Ingredients 
1 cup chilled brewed coffee 

½ cup milk

2 tbsp vanilla bean simple syrup

Ice cubes

Whipped cream (optional)
Preparing Instructions
Prepare the vanilla bean simple syrup. Combine the sugar, water and split vanilla bean in a saucepan.

Bring to a simmer, then remove from heat and let it cool. Remove the vanilla bean.

In a blender, combine the cooled coffee, milk, vanilla bean simple syrup, and ice cubes. 

Blend until smooth.

Pour the content into a glass and top with whipped cream if desired. 
Final Thoughts 
Our 5 vanilla bean recipes will undoubtedly add a new depth to your cooking experience. From dessert and main dishes to morning breakfast and coffee, the fresh beans will provide you with something you're longing for, a new unique taste and smell in your kitchen! 
So roll up your sleeves, grab the best vanilla ingredients, and get ready to bake!
One of our friends over at Scotch & Scones has also created a delicious Vanilla Bean Magic Custard Cake! You can get the recipe by visiting her site here!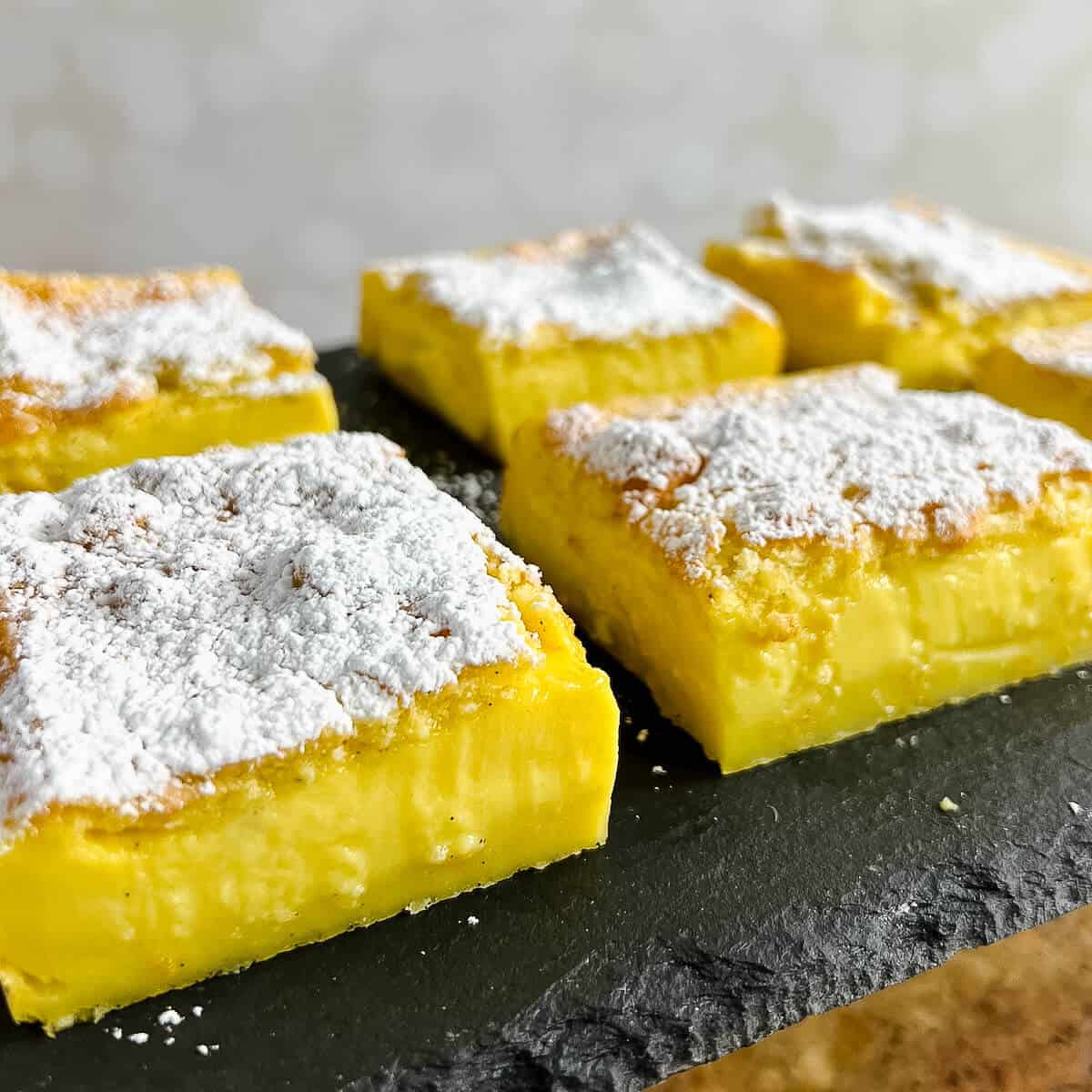 https://www.scotchandscones.com/magic-custard-cake/